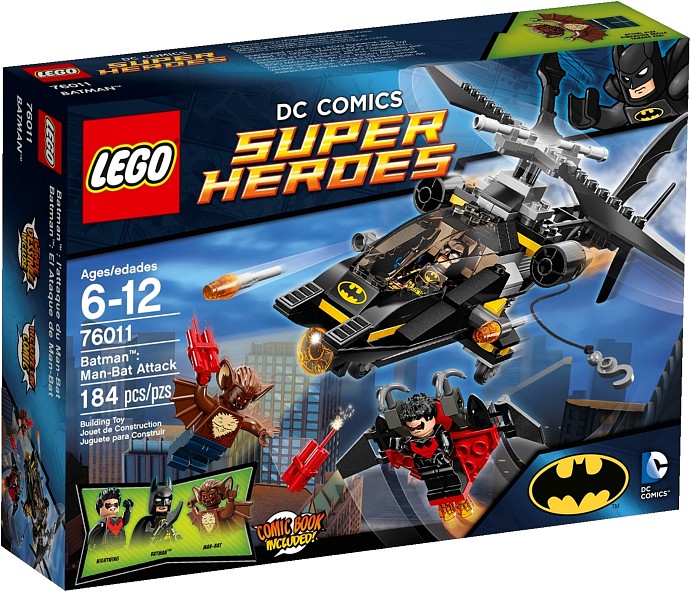 This set is AWESOME. Even if you didn't like comic books or Batman this set would still be great! A helicopter, a jet-pack-glider and 3 minifigures, two of them exclusive to this set, what is there to complain about? The price for part is roughly 10p (0.17 USD) meaning it's great value as well. Play-ability is pretty good to with two flick fire missiles and a hook on a string for tying up or hooking the mischievous Man-Bat. For the younger kids, the tail of the helicopter doubles as a handle for grabbing the helicopter and flying it about. Over all the helicopter is fairly sturdy, but the rotor blades are easily broken off, but they can easily be snapped back on again. As for the glider, this is also very cool. it has a great sticker on, and nightwing fits on perfectly. However, the glider is easier to break, with the fire/boosters coming of most often.
The minifigures are great! Nightwing has great printing on both sides of the body, and a double sided face, he has no accessories. Batman has great double sided printing on the torso, as well as a double sided face. He comes with one batarang, but the set includes one extra spare. Man-bat has a very detailed double sided print on the body, as well as his special wing arms. He also has a double sided face, and two dynamite accessories.
Over all, I love this set and recommend it to everyone over 6 years old, including the AFOLs!